Mobility/Transportation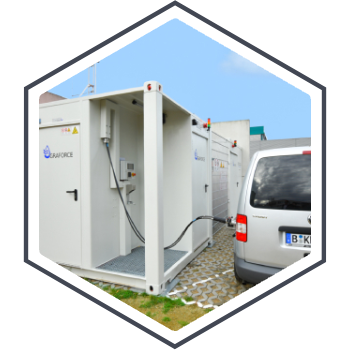 With its systems, Synreform offers an important key to decarbonizing traffic and achieving global climate goals.
Synthetic fuels can be produced when the Plasma-Electrolyser are combined with a Power2X system. This cuts production costs by half – with significantly higher yields.
Power2Gas (P2G)
The wastewater Plasmalyzer® generates green hydrogen and climate-neutral synthetic methane using solar or wind power. If an e-gas fueling system is connected, both gases could be mixed in different ratios.
The result is a synthetic e-gas/HCNG that can be used in existing technologies and plants according to country-specific regulations. It can fuel modern natural gas vehicles, as well as operate CHP units and gas turbines for heat and power generation.
This reduces pollutant emissions (CO2, CO, HC) by 20 to 60 percent. Nitrogen oxide emissions are also reduced by up to 60 percent.
Power2Liquid (P2L)
If CO2 or CO is also generated in addition to the hydrogen during the treatment of biogas in the plasmalysis process, synthetic liquid fuels can be produced from this using the proven Fischer-Tropsch process. These make especially long-distance transport, aviation, or shipping more climate-friendly without adjustments or restrictions.
Would you like to learn more about the many possible applications of plasmalysis in the energy industry? We would be happy to advise you on individual adaptations.