Synreform – Key to a circular economy 
We are convinced that climate protection and economic efficiency are not mutually exclusive.
We make it possible to close energy and material cycles and thus make a significant contribution to a future without fossil fuels and CO2 emissions.
Synreform is a technology leader in sustainable solutions and negative emission technologies. Our power-to-X plants produce CO2-free or CO2-negative hydrogen and synthetic feedstocks – with the highest efficiency and lower infrastructure costs in the multi-megawatt range. We thus decarbonize fossil energies, industrial sectors and the heat, transport and building sectors.
For the development and customer-specific scaling of its modular systems, Synreform works with global leaders in the fields of engineering, procurement and construction.
The company was founded in 2022 by Dr. Jens Hanke and is based in Berlin Adlershof. Adlershof is one of the 15 largest science parks in the world and the most important science, business and media location in Berlin-Brandenburg. Ten non-university research institutions, six institutes of the Humboldt University of Berlin and around 1,200 technology companies are located in an area of 4.2 km² not far from Berlin-Brandenburg Airport.
Our Team
Our interdisciplinary and highly specialized team of physicists, engineers and designers makes us the technology leader for sustainable and economical energy solutions for use in hydrogen production. Our interdisciplinary knowledge, commitment and experience from the fields of plasma physics, electrical engineering, mechanical engineering and process engineering guarantee quality, know-how and safety at the highest level.
Management Team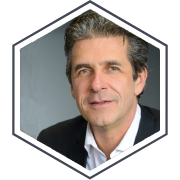 Dr. Jens Hanke, Founder and Chief Technology Officer
Jens Hanke founded Synreform GmbH in May 2022 and is responsible for managing the company, especially for engineering and product development. Before joining Synreform GmbH, he was founder and technical Managing Director of the company Robowatch Technologies for 11 years. Jens Hanke holds a PhD in Theoretical Medicine from Humboldt University in Berlin and Bachelor's and Master's degrees in Mathematics.